Back to all posts
Posted on
Emergency Services On Site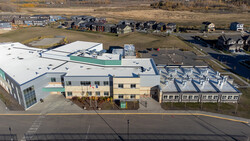 November 19, 2021 - 
As many of you may have heard in conversation with your child today, there were emergency services vehicles at the school. We just wanted to provide our parents and guardians an update. The City of Spruce Grove Emergency & Protective Services were on scene quickly to deal with a medical emergency involving one student on Friday, November 19th.
As always, in accordance with the Education Act, Prescott Learning Centre respects the privacy of individuals in circumstances like this. We will work closely with the families of our students to ensure that they are supported following this event.
At Parkland School Division, the safety and well-being of all our students is of the utmost priority. We'd like to extend a thank you to our staff, students, and to the first responders in this matter.
For more on student safety and school-wide emergency response procedures, we encourage parents/guardians and students to familiarize themselves with Parkland School Division's Emergency Procedures on PSD's website.
Take care.
Bryn Spence, Principal
Prescott Learning Centre